Welcome to Diamond Wheel Inc.
DIAMOND FOR CARBIDE - CBN FOR STEEL
We specialize in Precision Grinding Supplies, from Diamond Wheels to Chainsaw Wheels to Diamond Plating and more. You've found a one-stop shop! In fact, we're proud to say that we've sold over 500,000 Diamond Wheels since 1973. That's a lot of satisfied customers, and we hope you'll become one, too!

Diamond Wheel Inc. has available two lines of Diamond and C.B.N. Wheels to serve the Precision Grinding Industry: a premium line and a discounted value line.
"Great Product" HF 02/17 "Well worth the Price - I'll buy again" Robert 01/17
CHAINSAW WHEELS


Super Abrasive CBN 5 3/4" Diameter - 7/8" Hole
1/8" Thickness (CS575.8878E) for 1/4 -.325 & 3/8 Lo Prof (Picco) Pitch
$107.00
DIAMOND AND C.B. N. WHEELS
PREMIUM LINE


Premium Diamond 4A2 Facing Wheel
6 x 3/8 x 1-1/4, 120Grit,
R100,W=1/4, X=1/16
64T.1046
$98.00
BEST SELLER! Diamond and C.B.N. Wheels - VALUE LINE
DIAMOND AND C.B.N. WHEELS
VALUE LINE!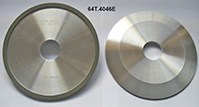 6" 4A2 - 5/16" T x 1 1/4" H W=1/4" X=1/16"
64T.8046E
180 Grit for $82.00
With great price to performance ratios these wheels offer an inexpensive cost alternative to our premium line.
Our value line of Diamond and C.B.N. Wheels has a selection of 4A2's and 12A2's for face grinding, and 11V9 for O.D. relief, and cut-off wheels for profiling and notching.
HIGH QUALITY
LOW PRICES