We specialize in Precision Grinding Supplies, from Diamond and CBN Wheels to Chainsaw Wheels to Diamond Plating and more. In fact, we're proud to say that we've sold over 500,000 Diamond Wheels since 1980. That's a lot of satisfied customers, and we hope you'll become one, too!

Diamond Wheel Inc. has available two lines of Diamond and C.B.N. Wheels to serve the Precision Grinding Industry: a premium line and a discounted value line.
"Thank you for the great service and Trust" Jacob 01/23 "Well worth the Price - I'll buy again" Robert 02/23
CHAINSAW WHEELS


Super Abrasive CBN 5 3/4" Diameter - 7/8" Hole
1/8" Thickness (CS575.8878E) for 1/4 -.325 & 3/8 Lo Prof (Picco) Pitch
$107.00
DIAMOND AND C.B. N. WHEELS
PREMIUM LINE


Premium Diamond 4A2 Facing Wheel
6 x 3/8 x 1-1/4, 120Grit,
R100,W=1/4, X=1/16
64T.1046
$98.00
BEST SELLER! Diamond and C.B.N. Wheels - VALUE LINE
DIAMOND AND C.B.N. WHEELS
VALUE LINE!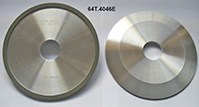 6" 4A2 - 5/16" T x 1 1/4" H W=1/4" X=1/16"
64T.8046E
180 Grit for $82.00
With great price to performance ratios these wheels offer an inexpensive cost alternative to our premium line.
Our value line of Diamond and C.B.N. Wheels has a selection of 4A2's and 12A2's for face grinding, and 11V9 for O.D. relief, and cut-off wheels for profiling and notching.
HIGH QUALITY
LOW PRICES